News
What we're up to
All news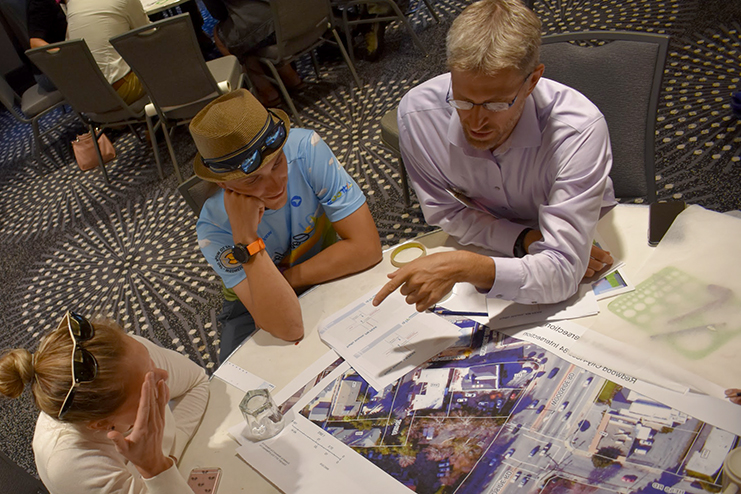 press
08 . 30 . 19
European Inspired Emerging Best Practices in Bicycle Facility Design
During the APBP National Convention held in August 2019, Tom Bertulis, KTUA Senior Active Transportation Engineer, is shown reviewing a case study and explaining the benefits of giving a minor street a "Dutch-style Driveway Treatment," common in Amsterdam and other Dutch cities. The design reduces speeds and volumes of motor vehicles and increases safety and comfort for vulnerable road users. Tom was a panelist and roundtable facilitator at the Convention. Photo by Tony Hull.
His presentation "European Inspired Emerging Best Practices in Bicycle Facility Design" explained the overarching framework regarding adapting European bicycle facility designs to North America. It discussed how U.S. history and the resulting built environment context sets us up for challenges and how some North American cities are having success overcoming those challenges. Emerging best practices in bicycle facility design from Europe were discussed, which included protected intersections, the next generation of bicycle facilities from The Netherlands, traffic calming European rural roads, and new applications of advisory bike lanes.
He also facilitated a design challenges workshop "Burning Design Questions, Boss Answers. An APBP-NACTO Partnership."
Some of the best APBP minds gathered to help work through some of the participants pressing design issues (bike box detail, crosswalk paving, turn signal timing, bus-bike interface, curb-free streets).
04 . 03 . 23
03 . 08 . 23