News
What we're up to
All news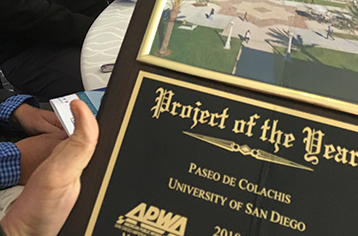 press
05 . 24 . 18
KTUA Receives Multiple Project of the Year Awards from APWA San Diego
On May 24, 2018, KTUA was presented with awards for three projects, at the American Public Works Association ceremony.
University of San Diego Paseo de Colachis was awarded APWA San Diego 2018 Project of the Year ($6-$25M category)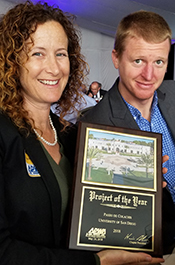 The new 142,123 SF plaza expands the existing pedestrian promenade on campus by eliminating a two-way vehicular street with a median and renovating the Library entry fronting the plaza to transform it into an outdoor pedestrian mall in the center of campus. Paseo de Colachis now serves as an inviting gathering and activity space for students and staff. The site is arranged in three distinct landscape spaces: the lawn, the garden, and the plaza, and includes formal plazas with furnishings, outdoor classrooms, a large lawn for free play and school events, an overlook area, and a native demonstration garden. Paths to buildings were accommodated with integrated terraces, formal ramps, and stairs to account for the significant grade changes across the site.
KTUA worked with subconsultants to complete concept designs, construction documents, and process improvement and building plans at the City of San Diego in just eleven months for the Plaza and five months for the Library expansion.
Existing conditions such as significant grade changes and undocumented utilities at key design features provided a challenge on the project during construction, but design team worked together to develop effective solutions in a short period of time to control construction schedule delays and excessive costs. The team also walked the site on a regular basis to ensure the construction quality was executed to the University's highest standards.
Project Team included: Landscape Architect & Primary Design Consultant- KTUA; Contractor – Rudolph and Sletten; Structural Engineer – Orion Structural Engineering; Geotechnical Engineer – Nova Services; Electrical Engineer – Michael Wall Engineering; Civil Engineer – Latitude 33; Water Feature – Aquatic Design Group.
Civic San Diego Southcrest Trails Park was awarded APWA San Diego 2018 Project of the Year (Under $2M category)


Using land that was once cleared for a freeway, this 2.6-acre park takes a site that sat vacant for decades and makes a connection back to Chollas Creek as it runs through the site.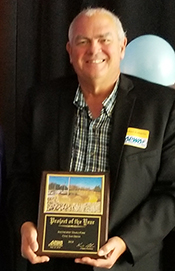 Landscaping utilized drought-tolerant plants. The park site also included a theme of the local flora and fauna that played off the adjacent Chollas Creek corridor. Children's play equipment with climbing rocks, animals and sand play areas with fossils were incorporated into the site, along with walls and monument signs mimicking snakes. The site also included shaded group picnic areas and barbecue grills, game tables, a trail system with exercise equipment located along the trail, a basketball court, a large amphitheater, and a skate plaza. Special attention was given to the water quality and hydrology of the site given the proximity to Chollas Creek. Public art was also integrated into the site in collaboration with a local artist through the City of San Diego Commission for Arts and Culture.
Project Team included: Landscape Architect – KTUA; Contractor – DMI; Structural Engineer – Orion Structural Engineering; Skate Park Designer – Site Design Group; Geotechnical Engineer – Geocon; Electrical Engineer – Visual Concepts; Civil Engineer – Nasland; Public Artist – Ingram Ober.
San Diego Canyonlands City Heights Trails was awarded 2018 APWA San Diego, Environmental Honor Award (Under $2M category)


The original intent was to "restore" existing trails in place, but the designers quickly determined that complete re-routing was necessary because most of the existing unplanned routes were so steep that they simply could not be sustainably restored or maintained. With grades of up to 32 percent, no amount of improvement would stop them from continuing to shed eroded soil and filling canyon bottom streambeds with silt.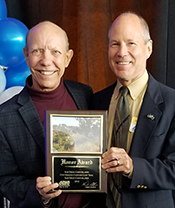 The designers asked the city and non-profit client to reconsider their opposition to new trails, which was based on the concern that replacement routes would be longer and therefore impact more habitat, especially when built with less slope as recommended by the designers. It was decided that even though there would be more trail overall, their future impacts on habitat would be minimal compared to trying to maintain the existing unsustainable routes. The trails will provide a far better user experience, which is an important factor in helping to encourage users to stay on designated routes.
Project Team included: Landscape Architect – KTUA; Contractor – Bellfree Contractors; Geotechnical Engineer – Quality Infrastructure Corp.