News
What we're up to
All news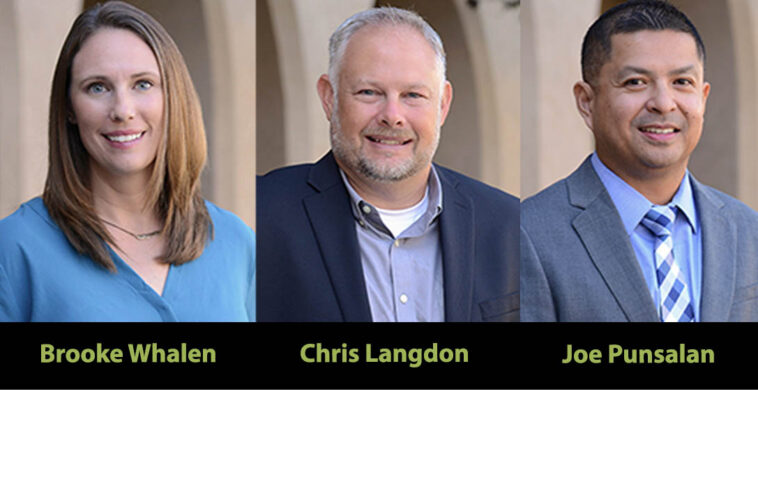 press
07 . 25 . 20
Brooke Whalen, Chris Langdon, and Joe Punsalan Named Principals
KTUA Planning and Landscape Architecture announces that studio leaders Brooke Whalen, Chris Langdon, and Joe Punsalan have joined KTUA's senior leadership as principals. As KTUA celebrates their milestone 50th anniversary this year, Brooke, Chris, and Joe bring their passion for design, planning, and service excellence to clients while continuing to mentor the professional development of staff and playing key roles in the continued success of the firm.
Brooke Whalen, Principal
Since joining KTUA in 2002, Brooke's passion is creating memorable places with an emphasis on sustainability, identity, pride, and opportunities for social activation.  Brooke has been an influential force in projects such as Paseo de Colachis at the University of San Diego, The Fairmont Grand Del Mar, and several projects currently in progress at Southwestern College. On the weekends, Brooke can be found in the local mountains hiking long distances, skiing, biking, or traveling with her husband Matt.
Chris Langdon, Principal
Chris' leadership is grounded with 27 years of experience in Southern California. His experience on park and recreation projects is fueled by his love for creating public spaces that support active living and connect people with their environment. Chris has been instrumental in the mentorship and professional development of junior staff. Chris is active in his community of La Mesa, sitting on the Design Review Board, and enjoys adventuring in his free time with his two daughters, Camryn and Macie.
Joe Punsalan, Principal
Joe is leading KTUA's transportation planning services. His career has been evolving at KTUA since 1998 and his passion lies in developing collaborative planning and design solutions that provide communities with activated, safe, and engaging active transportation infrastructure. In addition to his project leadership, Joe has been committed to advancing KTUA's community engagement and GIS processes, which have been instrumental to KTUA's success. Joe has also been involved in the Mira Mesa community by serving on the Planning Group and volunteering at Mira Mesa High School where his son is a member of the marching band. Joe is an avid cyclist and backpacker and enjoys traveling with his family.