News
What we're up to
All news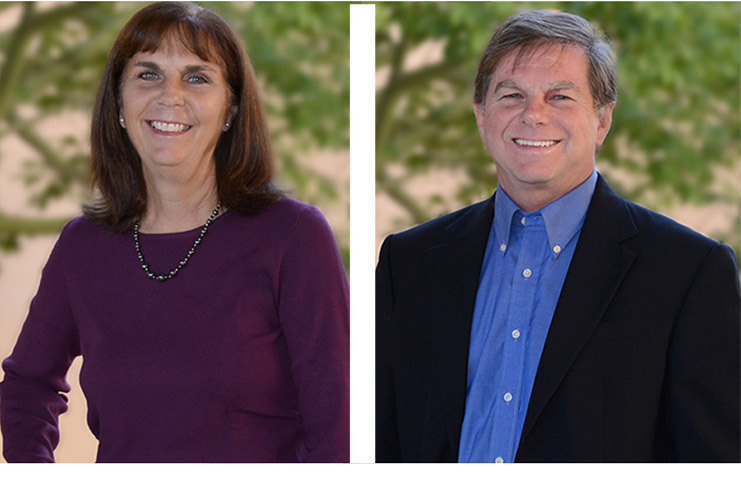 press
03 . 08 . 23
KTUA Principals Mike and Sharon Singleton Have Retired
The Next Generation of Principal Leadership is in Place After the Recent Retirement of Mike Singleton, Senior Principal Transportation Planner, and Sharon Singleton, Principal Marketing Director
After decades of being an integral part of the KTUA family, Mike Singleton, Senior Principal Transportation Planner, and Sharon Singleton, Principal Marketing Director, retired as of January 1, 2023. Mike and Sharon have had the privilege of working with many clients and consultants since the mid-80s, as well as very hardworking, talented, and devoted staff.
Mike, a graduate of Cal Poly San Luis Obispo, joined KTUA in 1987 as a Principal. Mike focused on expanding into different market areas including transportation planning, transit design and planning, military planning, park master planning, traffic calming, complete streets, pedestrian safety, and bike facility planning and design, and visual studies. He also assisted on resource management, fire management, habitat restoration, and watershed planning as well. He has had a great influence on projects throughout southern California and helped write and manage a number of grants focused on active transportation, smart growth and healthy communities for various agencies. Some of his notable projects include HUD: Guidelines for Creating Walkable and Bikeable Communities Nationwide, Mid-City State Route 15 Centerline Bus Rapid Transit Stations, City of San Diego City Heights Urban Greening Plan, and the City of Lemon Grove Main Street Promenade.
Sharon, trained as a landscape architect at Cal Poly San Luis Obispo earning her bachelor's degree in 1981, took a different career path. After joining KTUA in 1985 she worked as a project manager on several projects in San Diego, but saw a need to lead the marketing and business development at KTUA. With her technical background as a landscape architect as well as her passion and leadership, she was able to make connections with key clients and form valuable relationships within the industry. She also served on several Boards throughout her career and was heavily involved in American Public Works Association (APWA), Society for Marketing Professional Services (SMPS), Urban Land Institute, and Circulate San Diego.
Together, both Mike and Sharon shared a passion for the connection between the built and natural environment and for creating spaces and awareness for public health and sustainable neighborhoods. Mike and Sharon are enjoying no deadlines, catching up on sleep, walking anywhere they can, visiting with family and friends, and volunteering in the community.
With Sharon's departure, Kristie Bevacqua joined KTUA as Director of Marketing and Business Development, bringing more than 25 years of experience in the architecture, engineering, and construction industry. In her new role she supports new business opportunities and client relations. She is a board member of the American Public Works Association (APWA) San Diego and Imperial Counties Chapter and is a member and Past President of the San Diego Chapter of the Society for Marketing Professional Services (SMPS). She earned her Certified Professional Services Marketer (CPSM) designation in 2009 from SMPS. She previously served as Recording Secretary for the Society of American Military Engineers (SAME) from 2013-2019. Kristie received her Bachelor of Science degree in Business Administration from Sonoma State University.
As KTUA surpassed its 50th anniversary in 2020, Principal Leadership is now in its third generation with Mark Carpenter serving as Principal Resource Manager, Brooke Whalen and Chris Langdon serving as Principal Landscape Architects, and Joe Punsalan as Principal Transportation Planner. The team brings their passion for design, planning, and service excellence to clients while continuing to mentor the professional development of staff and playing key roles in the continued success of the firm.